Image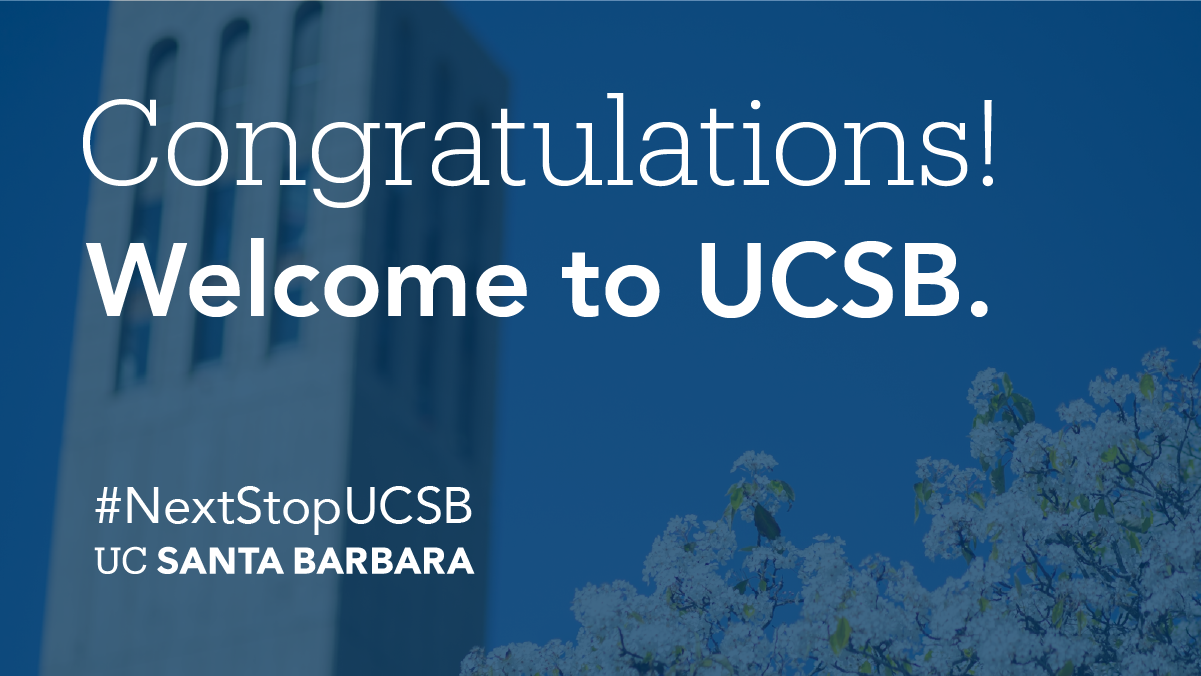 Welcome to UCSB, and welcome to OISS!
Congratulations on your admission to UC Santa Barbara! We at the Office of International Students & Scholars are so excited to welcome you to our International Gaucho family. #GlobalGauchos
As an international student, one of your important tasks is obtaining an I-20 or DS-2019 from our office, so that you can apply for a visa. Once you submit your Statement of Intent to Register (SIR) to UC Santa Barbara and activate your UCSB NetID, you will receive an email from our office to begin your I-20 or DS-2019 request process. On this webpage you will find the following important information:
Next Step: Requesting Your I-20 or DS-2019
Determining Your Visa Type
Steps To Obtaining Your Immigration Documents
Preparing For Your Arrival & What To Expect
CALI: Required Training for New International Students
Frequently Asked Questions (FAQs)
Next Step: Requesting Your I-20 Or DS-2019
Below you will find information to help you select the best visa type for your studies. Your visa type indicates whether you should request an I-20 or DS-2019. Once you determine your visa type, select the option that best describes you in order to receive step-by-step instructions on requesting your I-20 or DS-2019 document. 
Were you admitted to begin your studies at UCSB in Fall 2023? The email from OISS inviting you to begin your I-20/DS-2019 request process will go out after April 3, 2023.
Note: If you were accepted to UCSB and submitted your SIR (Statement of Intent to Register) but did NOT receive your welcome email from OISS, please try logging into UCSBGlobal using your UCSB Net ID and password to begin your request. You can follow the instructions on this page.
How do I know what type of visa I need to apply for?
As a newly admitted international student, you must determine your visa type and what steps you need to take to obtain your immigration documents. Not sure which visa type is best for your studies? To compare the F-1 and J-1 visa types, check out our visa comparison chart. To find information on the visa application process, visa appointment wait times, and a listing of U.S. embassies and consulates, head over to our Immigration Resources page. 
Which option below sounds most like me?
Select the statement below that best describes you. The link will take you to a page with instructions on how to request your immigration documents from OISS.
How can I prepare for my arrival?
If you are a new student to the United States, you can enter the US no earlier than 30 days before the program start date listed on your I-20 or DS-2019.  Before departing for the United States, it is extremely important that you pack the following documents in your bag which you will be carrying onto the airplane. Do NOT place your documents in your checked luggage:
Valid passport with valid student visa stamp (Canadian students do not require a student visa)
I-20 or DS-2019 issued by UCSB
Proof of financial funding
Acceptance letter from UCSB
What to Expect at the Border
When arriving at Customs and Border Protection (CBP) in the airport, you will be expected to show your Passport, Visa (if applicable) and I-20 or DS-2019. The officer may request additional documentation included above.  Remember that you must go through CBP when you first arrive in the United States. If you have a connecting flight, be mindful that the process can be time consuming. Direct flights are always recommended if possible.
It is extremely important that as soon as you are able to check your I-94 record, you do so. The I-94 record should reflect the correct "Class of Admission" (F-1 or J-1) and the "Admit Until Date" should indicate D/S (Duration of Status). Duration of Status means that as long as your I-20 or DS-2019 are valid, you are legally allowed to remain in the United States. Visit OISS immediately if you find any errors on your I-94 record.
Getting to UCSB
Most students will arrive at Los Angeles International Airport (LAX).  From LAX, Santa Barbara is about a 2 hours drive (without traffic). The most popular option to get from LAX to Santa Barbara is the Santa Barbara Airbus. Taxis, Uber and Lyft are also options, however, may be a more expensive option if not splitting the fare with others.
If you have a connecting flight to Santa Barbara Airport (SBA) then you are only a 5 minute taxi, Uber or Lyft ride to UCSB.
Apply for Housing
If you plan to live on campus, you must first apply to UCSB Housing. Visit the UCSB Housing website for more information on various housing options and how to apply. Pay attention to the application deadline in order to obtain guaranteed housing during your first year at UCSB.

If you are residing in private housing make sure you are in contact with your landlord to move into your home.
OISS cannot store luggage or personal belongings for students upon your arrival.
What do I need to do once I arrive?
I need to...
Upload my I-94 and visa page in my passport into UCSBGlobal
Enter my local living address in UCSBGlobal
Pick up my UCSB ID Card
Complete the mandatory CALI Training so that I'm informed of important immigration and campus policies, as well as tips and resources that will help me have a successful experience as a UCSB Gaucho.
CALI Training
As an International Gaucho, you are required to complete CALI Training. CALI stands for Cultural Awareness, Laws, and Immigration...and it's also short for California, your new home for the next several years! CALI training will inform you of the important immigration information, requirements, and benefits you need to know as an international student. It will also prepare you for academic, social and professional success as an International Gaucho at UCSB, which is a world-class research university! Don't worry, our excellent team of international student advisors are here to help you throughout your UCSB journey.
For more information, check our CALI Training webpage.  
Please note that the required CALI training is separate from Orientation Programs that are offered by UCSB. We highly encourage you to participate so that you get the same experience as all UCSB incoming freshmen! Visit the UC Santa Barbara Orientation Programs & Parent Services website for more information.