We're Here To Serve
Mission Statement
The Office of International Students and Scholars serves international students and scholars, faculty and staff in pursuit of creating a UCSB academic community that is Multicultural and global in scope. Our mission is to serve international students and scholars as well as faculty and departments by responding to their needs for immigration services, cultural programs and related information, and to help the university achieve its mission of excellence as a world class research institution of higher education.
OISS Announcements
Missed an announcement or newsletter? Visit our News & Announcements page.
The Student Resource Building will be closed from March 21 - March 24. During that time, OISS will be operating remotely. Please pick up any documents you need to prior to March 21. UCSB is closed on March 25 in observance of Cesar Chavez Day. 

The English Conversation Program (ECP) is now open to international graduate students, scholars, and their family members. For more information, please visit the ECP page on our website.
Get To Know OISS
OISS provides services and advising to international students and scholars, as well as the departments that support them. Please take a look at our digital brochure below to learn about international Gauchos at UCSB, OISS services, and to meet the team! 
Image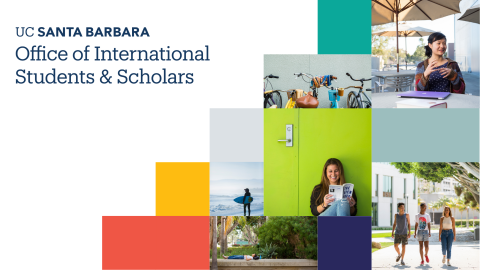 Traditional Land and Custodians Acknowledgement 
OISS wishes to acknowledge the traditional custodians of this place and all land upon which the University is located, and pay our respects to the Chumash Elders past, present and future for they hold the memories, the traditions, and the culture of this area, which has become a place of learning for people from all over the world.