We're Here To Serve
Mission Statement
The Office of International Students and Scholars serves international students and scholars, faculty and staff in pursuit of creating a UCSB academic community that is Multicultural and global in scope. Our mission is to serve international students and scholars as well as faculty and departments by responding to their needs for immigration services, cultural programs and related information, and to help the university achieve its mission of excellence as a world class research institution of higher education.
Get To Know OISS
OISS provides services and advising to international students and scholars, as well as the departments that support them. Please take a look at our digital brochure below to learn about international Gauchos at UCSB, OISS services, and to meet the team! 
Image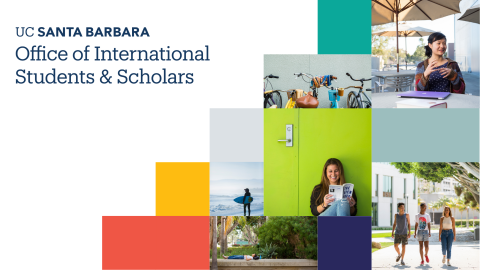 Traditional Land and Custodians Acknowledgement 
OISS wishes to acknowledge the traditional custodians of this place and all land upon which the University is located, and pay our respects to the Chumash Elders past, present and future for they hold the memories, the traditions, and the culture of this area, which has become a place of learning for people from all over the world.
Information on the OISS website, in UCSBGlobal, or from any other resource, including emails, associated with OISS is intended to provide you with general guidance and should not under any circumstances be considered or interpreted as legal advice. 
Additionally, due to the fluid nature of governmental interpretation, it must be understood that US Citizenship and Immigration Services (USCIS) and the Department of State (DOS) may change their interpretations of established immigration laws/regulations and eligibility requirements for benefits at any time.

OISS reviews application materials as a courtesy and makes recommendations based on our current knowledge regarding common errors. As an international student or scholar, it is your responsibility to ensure that your application is complete and correct, and to seek legal advice concerning any aspect of your application that may be needed.