UCSB Student Code of Conduct
By enrolling at UC Santa Barbara, you agreed to uphold all of the responsibilities within the UCSB Student Conduct Code. Each of us shares the responsibility of community standards. As an international student, it is important to recognize that failing to uphold the Student Conduct Code can have unintended, additional consequences that may impact your visa status. For example, dismissal or suspension can lead to your inability to maintain your enrollment at UCSB and thus your visa status. OISS asks you to pay close attention to the below information for these reasons. 
View the UCSB Student Conduct Code
The Student Conduct Process
The Office of Student Conduct at UCSB is responsible for adjudicating academic and behavioral violations of the Student Conduct Code. The Code exists to ensure the highest levels of academic and behavioral integrity in our campus community. It is your responsibility to know the Code, so that you can avoid violating it.
Be sure to visit the OISS page on Academic Integrity, which takes a deeper look into how you can uphold your academic integrity responsibilities during your time at UCSB.
If at any time you are charged with allegedly violating the Student Conduct Code, you will receive a notification from the Office of Student Conduct. To the right, we have provided a flowchart of the Student Conduct Process. This is so that you can better understand what to expect, your options, and possible outcomes, if you were to ever receive a notification from the Office of Student Conduct.
Visit the Academic Integrity Page
Values & Learning Outcomes
The Office of Student Conduct are Student Affairs professionals have values of human dignity, servant leadership, direct and honest communication, and inclusion. If you are in contact with their office, don't hesitate to contact them. They are here to help you navigate through the UCSB Student Conduct process, and are interested in providing the following learning outcomes:
Improved understanding of student rights and responsibilities, the Student Conduct Code and our Principles of Community.
Recognition for the impact of behavior(s) at both the individual and the larger community level.
Developed awareness for the ethical and behavioral expectations of all UC students.
Further insight for available campus resources and appropriate actions that support educational goals.
Image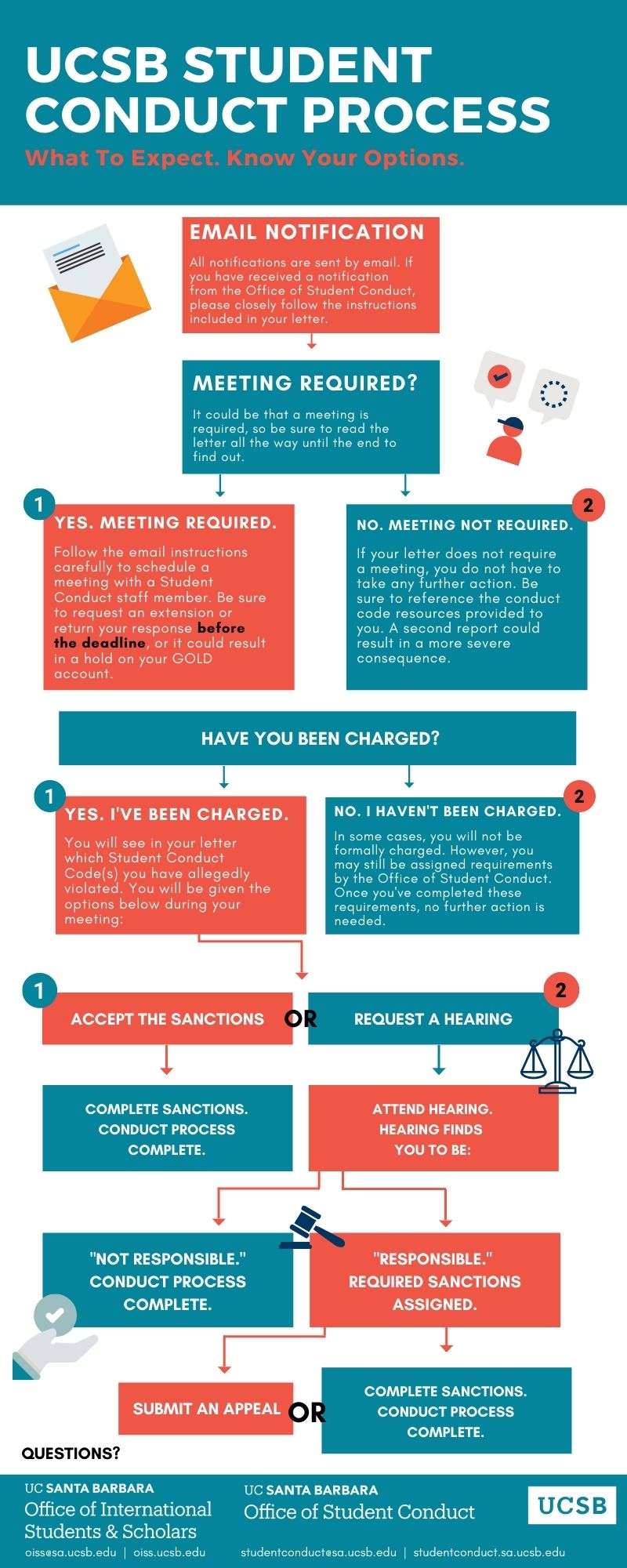 Bias Incident Response
Any member of our community who believes they experienced or witnessed a hate incident or crime is encouraged to report the incident through the UC Systemwide reporting form.
Contact the Office of Student Conduct
2260 Student Resource Building
Mail Code 5010, UC Santa Barbara
Santa Barbara, CA 93106-5010
(805) 893-5016
studentconduct@sa.ucsb.edu
Office Hours: Monday - Friday, 9:00 AM - 12:00 PM; 1:00 PM - 4:00 PM US Pacific Time