Travel to UCSB
UCSB is located about 10 miles northwest of downtown Santa Barbara, adjacent to Goleta and Isla Vista. The closest airport is SBA, but it can be more expensive to fly directly to SBA. Many travelers fly to the international airport in Los Angeles (LAX) then take a shuttle to get to UCSB.
Arriving via SBA: The Santa Barbara Airport (SBA) is located next to UCSB.

There are several options to get from the Santa Barbara Airport to UCSB:
Arriving via LAX: Los Angeles International Airport (LAX) is the closest large international airport, approximately 100 miles south of UCSB. The Santa Barbara Airbus offers scheduled trips to and from LAX. Visit their website for schedule and pricing.
International travelers should allow at least two hours for passport control and customs. If you miss your connecting flight to LAX or Santa Barbara, ask the airline service representative to rebook your flight and help you find a hotel if you have to stay overnight. The airline will NOT pay for your hotel if you are delayed by customs and immigration officials. Be sure to have at least $200 with you in case of an unexpected delay and stay over.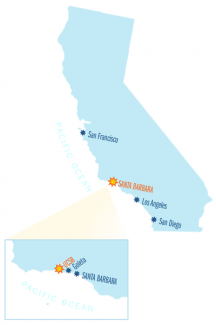 Temporary Accommodations
We strongly recommend you make arrangements for housing before arriving. The Santa Barbara rental market can be quite challenging. If you do not have accommodations prearranged, it may take you some time to find a place to live.
UCSB has a list of nearby hotels and lodging options here, including the on-campus "Student Hotel" which allows students a room in the residence halls short term. This can be a very good option if you are arriving before your move-in date. More about housing options here.