OISS hosts a variety of events and programs for international students and scholars, from social hours to food festivals to visa and employment workshops. OISS encourages you to get involved on campus by attending events such as those hosted by Arts & Lectures or the MultiCultural Center, or by joining a club (there are over 400 registered campus organizations here!). Find more events by visiting Shoreline, UCSB's student engagement platform!
Image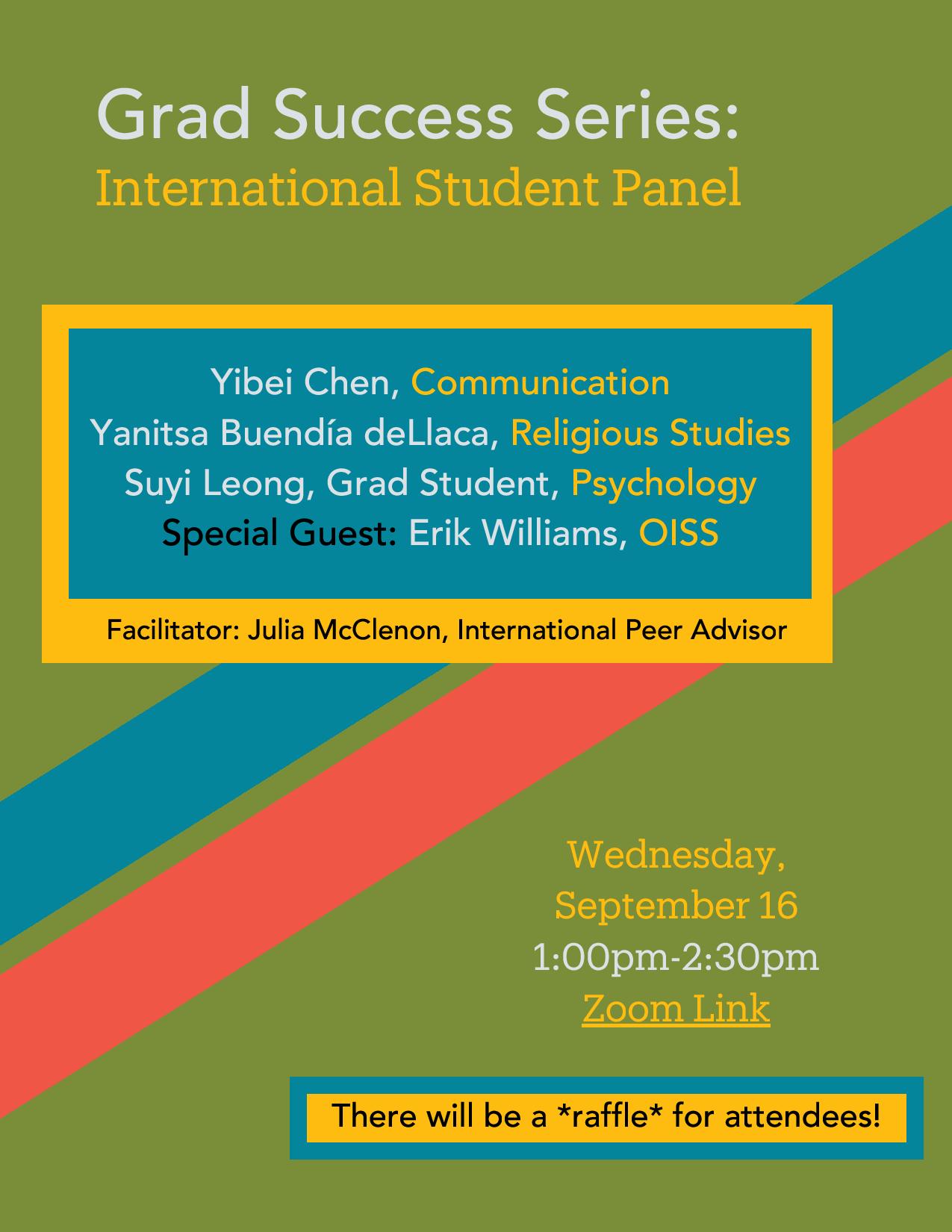 OISS + Graduate Student Resource Center Workshop
Grad Success Series: International Panel & Q&A
WED, SEP 16  |  1:00 PM (PDT)  | Zoom Link
Join three international graduate students – Yibei Chen, Yanitsa Buendia De Llaca, and Suyi Leong – along with the International Grad Student Peer Advisor, Julia McClenon, and OISS's grad student advisor, Erik Williams, for a panel discussion on the real experience of being an international graduate student at UCSB. 
Note: this panel will not be recorded.
This event is co-hosted by OISS and the Graduate Student Resource Center.
Image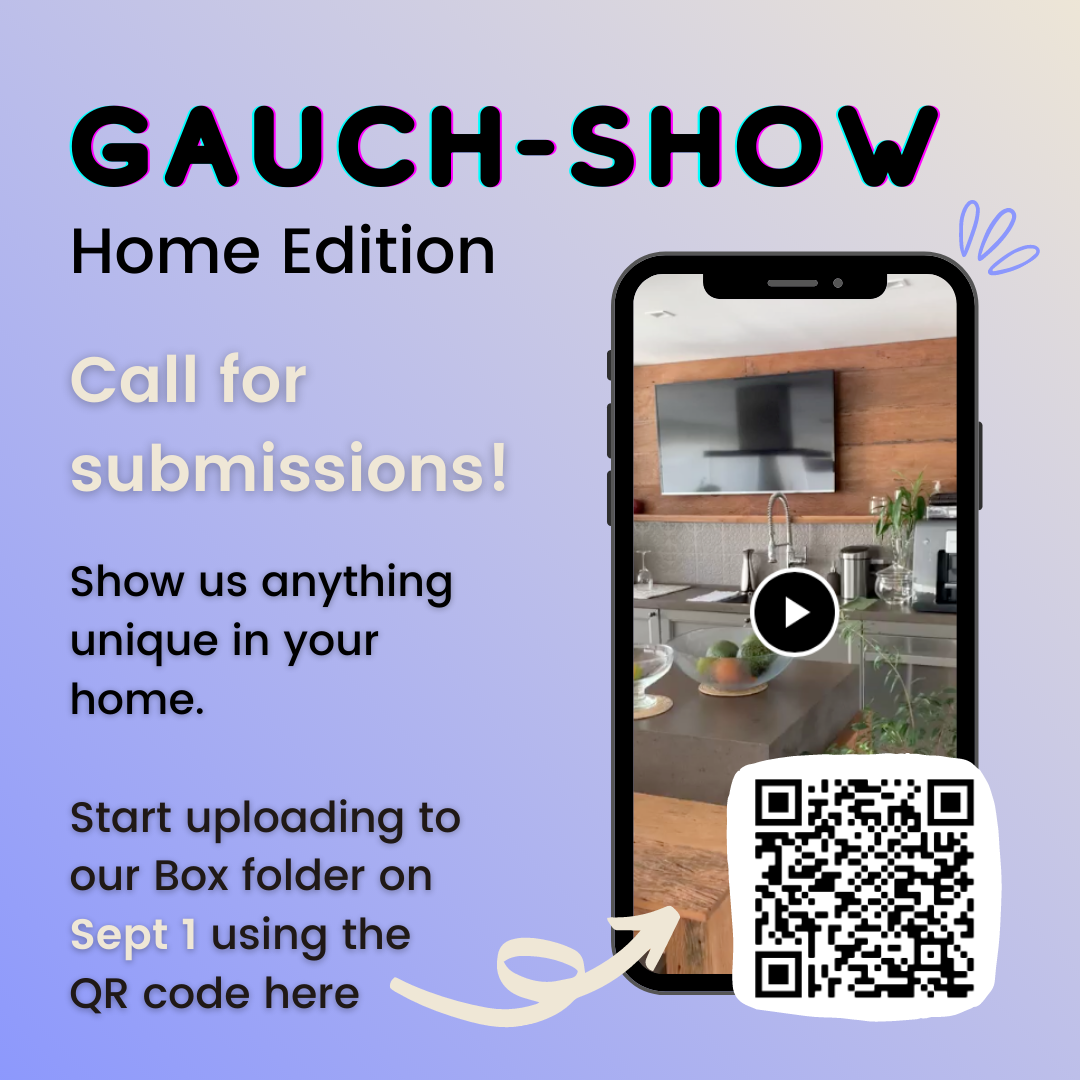 OISS Special Virtual Program
GAUCH-SHOW: HOME EDITION
FALL 2020 | ALL OVER THE WORLD
Although Gauchos consider Santa Barbra a home-away-from-home, they come from many different countries, cities, and cultures. This diversity enriches our campus and adds value to our community. The Office of International Students and Scholars introduces Gauch-Show, a collection of videos submitted by students that offers insight into their lives. In our first edition, we welcome all students to share what makes their homes unique, wherever they are right now.
The idea is inspired by videos like these. For example, maybe there are things that make a lot of sense in your current space that you can't find in the US or Santa Barbara, like a high-tech shower room. Or maybe there are things that don't make sense, like a drawer that can't open. Maybe you have exotic pets or interestingly-shaped windows.
All submissions are welcome!
Upload your 30 second to 1 minute video to this DropBox folder now! If you are not able to access Box, then please contact oissprograms@sa.ucsb.edu and we can help coordinate an upload on your behalf. To view the submissions, click here.
Image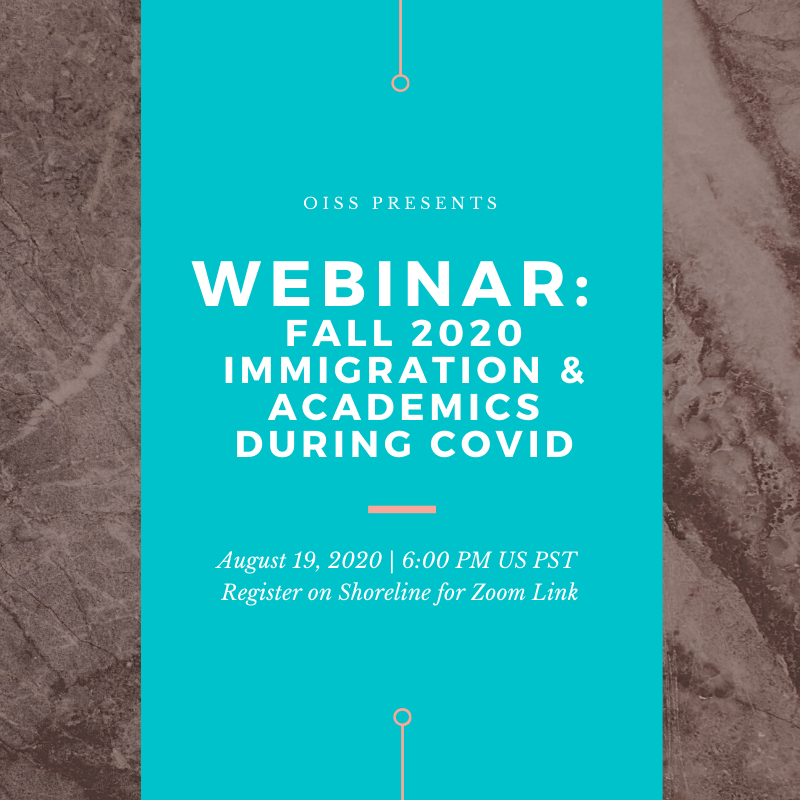 Webinar
FALL 2020 IMMIGRATION & ACADEMICS DURING COVID
Watch the video recording here! | View the Presentation Slides Here!
During this webinar that took place on August 19, 2020, OISS and academic advisors from the Colleges of Letters & Science, Engineering and Creative Studies provided an overview of what Fall 2020 might look like in light of COVID-19 and UCSB's hybrid instruction. The presentation was followed by a live Q&A session, where students asked questions directly to advisors. This event was for both new and continuing undergraduate international Gauchos, but all were welcome.
To view the video recording, click here. To view the presentation slides, click here.
**Note: The information presented during this webinar was accurate as of August 19, 2020. Due to changing circumstances caused by the impacts of COVID-19, this information is subject to change. Please verify information with OISS and your College. 
Image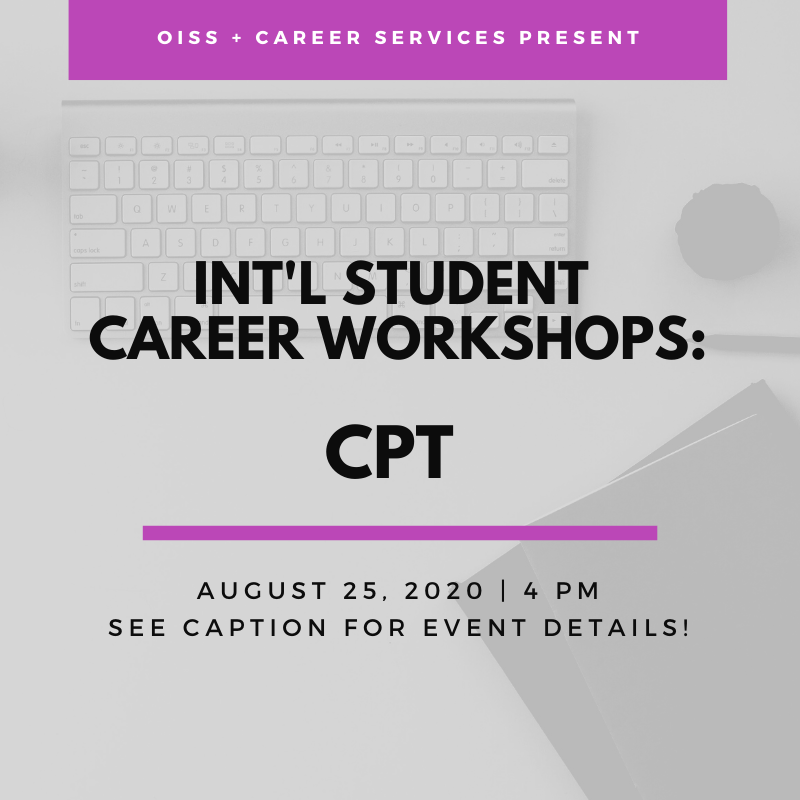 OISS + Career Services Workshop
INTERNATIONAL STUDENT CAREER WORKSHOP: CPT (CURRICULAR PRACTICAL TRAINING)
Watch the Recording Here!
Ready to apply what you've learned in the classroom in the real-world? Excited to try your hand at working in the U.S. before graduation? Got an internship offer but not sure how to get authorization from OISS?
If any of these questions apply to you, then you won't want to miss our upcoming workshop! In partnership with Career Services, this workshop will go over the basics of CPT (Curricular Practical Training.) Whether you're an undergraduate who would like to apply for an internship, or an experienced graduate who needs to perform off-campus research, every F-1 international student must receive CPT authorization if they want to work off-campus before graduation.
An OISS advisor will go over the CPT program, eligibility requirements and the application process. A Career Services counselor will provide you with tips and insights regarding the internship search process.