Optional Practical Training (OPT) is employment or training which provides an opportunity for you to obtain actual work experience in the U.S. that is directly related to your field of study.
There are two types of OPT:
Initial 12 Month Post-Completion OPT

All students must apply for the Initial 12 Month Post-Completion OPT first.

As an F-1 student you are allowed up to 12 months of OPT for each degree you pursue. For example, if you take 12 months of OPT after completing your bachelor's degree, you are eligible for another 12 months of OPT if you later go on to complete a master's or doctoral degree.

24 Month STEM OPT Extension

Recipients of bachelor's, master's, and doctoral degrees in certain government-designated Science, Technology, Engineering, and Mathematics (STEM) fields may be eligible for a 24-month extension of Post-Completion OPT (for a total eligibility period of up to 36 months). Details on the 24 month STEM OPT Extension can be found on this page of our website.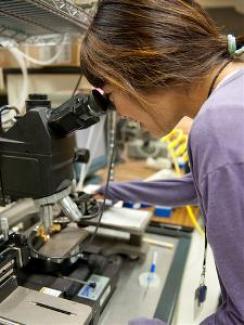 Initial 12 Month Post-Completion OPT
In order to be eligible for OPT, you must be in lawful F-1 student status for at least one full academic year (three quarters) and submit the application materials to the U.S. Citizenship and Immigration Services (USCIS) in a timely manner.
You can submit an OPT application up to 90 days before your program completion date, and up to 60 days after.
 It is best to apply early, rather than waiting until your 60 day grace period has expired, in case there are any issues with your application.
NOTE: If you leave the U.S. during your 60 day grace period and have not applied for OPT, you are NOT eligible to apply for OPT and cannot return to the U.S. in F-1 status. 
While you are on OPT, OISS will continue to maintain your SEVIS record (even though you have already graduated from UCSB) and you will continue to be in F-1 status.
How to Apply
The online OPT Tutorial will walk you through the application process. View the OPT Tutorial. 
Review the Information Page of the OPT Request Form and prepare all the forms listed on page 2 of the information sheet, including:

Form I-765 (from USCIS)
Form G-1145 (from USCIS)
Most recent I-94 (retrieved from https://www.cbp.gov)
Pay your OPT processing fee online here

There is a $150 processing fee for initial 12 month OPT applications. There will be a $300 processing fee for STEM OPT Extensions.
Approval Timeline
The USCIS advertises that it will take up to 120 days (approximately 4 months) to process and approve an OPT request. You are eligible to apply for OPT up to 90 days before you program completion date. Please also consider that OISS requires at least TEN BUSINESS DAYS to review and process an OPT I-20 request.
Once OPT is authorized by USCIS, it cannot be cancelled.
Employment Requirements
During the initial 12 month post-completion OPT, F-1 status is dependent upon employment.
 Students may not exceed an aggregate (total) of 90 days of unemployment during the authorization dates listed on the EAD. Exceeding the 90-day period of unemployment may have a negative impact on your status in the U.S. or immigration benefits in the future.
NOTE: If you have used 90 days of unemployment, you do not have a grace period to stay in the U.S. and must be ready to leave BEFORE day 91. Staying past the 90 days of unemployment allowed, or staying past a 60 day grace period if you successfully complete your OPT authorization, is a violation of your status and may be considered "unlawful presence."
All employment MUST meet the following requirements:
Work must be directly related to the major listed on the I-20
Work must be full-time (more than 20 hours per week)

You can hold more than one position to meet this minimum requirement, as long as all work meets the other employment requirements.

Work can be paid or unpaid

If you wish to pursue a volunteer position and report it as OPT employment, please consult with an advisor at OISS.
If requested by the US Department of Homeland Security, students must be prepared to provide evidence of employment. Therefore, it is in the best interest of the student to maintain evidence, for each job, of the position held, proof of the duration of that employment, the job title, contact information for the student's supervisor or manager, and a description of the work. 
Reporting Requirements
You will continue to be in F-1 student status so you must continue to report certain information about your stay in the U.S.
In order to report updates to your address and employment, you will utilize the SEVP OPT Portal.  Access to the SEVP OPT Portal is granted upon approval of your OPT application by USCIS.  All reporting is required within 10 days of the change.
You will receive an email with instructions on creating a portal account. This email will come from do-not-reply.sevp@ice.dhs.gov. If you do not see the email, check your spam or junk mail folder. If you still do not see it, contact OISS to have the email sent again. 
Please note SEVP will never request payment for using the OPT Portal, so please report any suspicious activity to OISS.
Once you have entered your employment information in the SEVP OPT Portal, please send an e-mail to OISS at: OISS@sa.ucsb.edu  to let us know so that we can review and print your new I-20 showing your OPT employer.
Additional information regarding the SEVP OPT Portal can be found at: https://studyinthestates.dhs.gov/sevp-portal-help
Any of the following is required to be reported directly to OISS:
Change in name
Early Completion of OPT
Enrolling in a new degree program or transfer to another academic program
Deciding to return home early
Please email OISS@sa.ucsb.edu if you have any questions or need further guidance.
Travel Outside of the U.S. and Re-Entry
Students on OPT are still in F-1 student status. To re-enter the U.S., you must have:
Current passport that is valid up to six months after reentry date
Valid F-1 visa
Current I-20 with valid travel signature on page 2
Note: Even if your OPT position is in another city, you need to have valid travel signature from OISS on your I-20. If you are unable to bring your I-20 to OISS to have it signed, you may need to mail your I-20 to OISS to have it signed. Travel signatures while on OPT are valid for 6 months.
Original EAD card
Original job offer letter or verification of employment from employer on company letterhead
In addition, students with expired visas may find it extremely difficult to renew their F-1 visa for practical training purposes. Students on OPT are advised to plan carefully before leaving the U.S.
IMPORTANT UPDATE
The Form I-765 was updated on August 25, 2020. Any OPT applications postmarked on or after this date must include the most current version of the form (Form I-765 Edition 08/25/20). Please note that the guidance provided in the OISS OPT tutorial is supplemental in nature to help answer any questions that may arise while completing the I-765. Ultimately, we urge students to refer to the guidance provided by USCIS: https://www.uscis.gov/i-765.