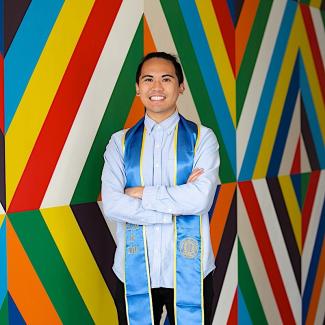 Intake Advisor
(805) 893-2929
Kyle is a proud UCSB alumnus who graduated with a B.S. in Biopsychology. He is a first generation Filipino-American who has grown up in California for most of his life. Having heard his parents speak about the immigration process and cultural differences between the US and the Philippines as he grew up, Kyle became very interested in the international experience. So, he loves talking to international students and helping them find their way at UCSB.

Kyle also loves discussing the human mind, brain, experience, and condition. He is primarily interested in the following topics:
• The psychology of the self, memory, and consciousness
• How cultures reflect and shape the psychological processes of their members
• How cross-cultural effects impact self-actualization
• The biological interactions of psychoactive drugs in your brain and the corresponding subjective experience

In his free time, Kyle likes to play piano, walk outside in nature, curate music playlists, play video games, watch TV shows and movies, read fiction, play with his dogs, and let the existential dread set in. He can also wiggles his ears.