Image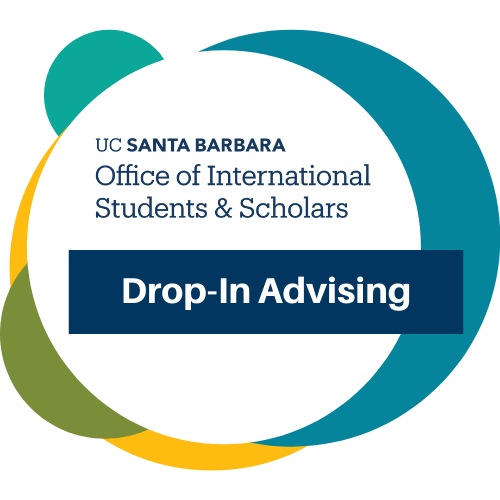 Drop-In Advising
OISS hosts Drop-In Advising to answer students' general questions and provide immediate support from anywhere! If you're a student, check out the advising schedule below. 
J-1 Scholars may contact J1scholar@sa.ucsb.edu with questions and H1B scholars may contact longtermvisa@sa.ucsb.edu. 
Overview
Review the schedule to see when Drop-In Advising is offered. 
If you're outside the US, use a time converter tool like this one to check the time of the Drop-In session. (OISS advisors are located in Santa Barbara, CA.)
Click this link to enter the Drop-Ins zoom room for virtual drop-ins or
Come to OISS on the third floor of the Student Resource Building for in-person drop-ins. 
Calculating Time Zone Differences
If you are currently located in a time zone different from Santa Barbara (U.S. Pacific Time), then we know it can be tricky to calculate the time zone difference. To ensure that you attend your classes, advising appointments, and drop-in hours at the correct time, we highly encourage you to use technology! 
You can simply ask the search engine of your choice what time it is in Santa Barbara, or you can also use a time converter tool like this one for accuracy!
When is Drop-In Advising Offered?
This is our current schedule for Drop-In Advising! Please note that the schedule is subject to change based on advisor availability, so we do not recommend saving the schedule to your desktop. Instead, bookmark this page into your internet browser's bookmarks or favorites list to access the most updated schedule. Finally, if you are in a different time zone than U.S. Pacific/California time, we urge you to use a time zone converter tool like this one so that you "drop-in" to our virtual sessions at the correct time.
Image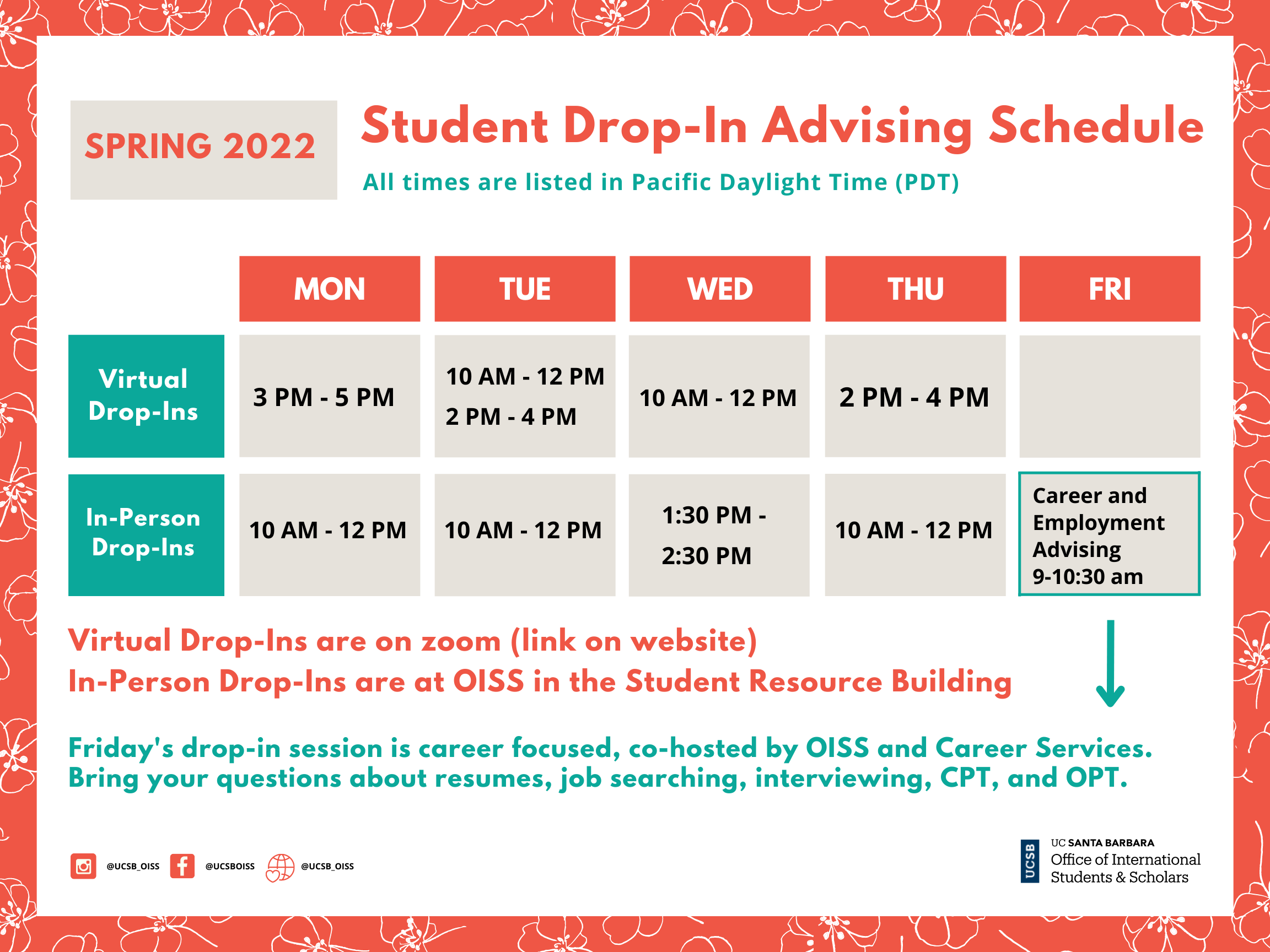 Career & Employment Advising Sessions (Fridays)
Friday's drop-in session is career focused, co-hosted by OISS and Career Services. A Career Counselor will be present to answer your questions about resumes, cover letters, job searching, major exploration, interviewing, salary negotiation, and graduate school searching. An OISS advisor will be present to answer your employment questions as it relates to your visa status: OPT, CPT, on campus employment, etc.  
What does "Drop-In" mean? 
These sessions are called, "Drop-Ins" because students do not need to reserve a time or date to attend. No RSVP is required, so students can drop-in whenever it is convenient for them.
How do I participate in Drop-Ins? 
For Virtual Drop-Ins, use this link to enter the zoom room: https://ucsb.zoom.us/j/84948206470
When students enter the zoom room, their cameras will be off and their audio will be muted. 
For In-Person Drop-Ins, come to OISS on the third floor of the Student Resource Building. Sign in at the front desk and select, "Drop-In" as the reason for your visit. 
 
How will questions be answered in Virtual Drop-Ins? 
Students may type their question in the chat box or unmute themselves to speak. The advisor will answer questions in the order in which they are received. Please note that all chat submissions are visible to all students in the zoom room and there may be several other students in the zoom room at once. This is a group advising session open to all students. Please avoid sharing personal information, such as your PERM number, during the session. 
 
What questions will be answered? 
Drop-In advising sessions are meant to be short, 5 to 10 minute conversations. If you would like to discuss something more lengthy with an advisor, please schedule an appointment with your assigned advisor. Appointments are typically available within a few business days.